Material-i-ty / Material-and-you, 2021

Publication. Essays by Cara Benedetto, Farrah Karapetian and Anthony Leslie. Design by Silvi Naçi. English. ed.100, 25usd.

Transliteration, and a deconstructionist proposition on materiality, this small volume book is a collection of philosophical meditations on the wider notion of the word and its meaning.

Materiality, when deconstructed as a word in the English language becomes a conjunctive syntax in Polish language as, material-i-ty, which translates quite literally into, materiał - and - you. A word translated into a sentence, where a noun and pronoun are inadvertently but congruously connected. Material and you, as a conjunction phrase forms a strategic point of departure for a unique consideration of material and the notion of materiality. In its deconstructed form, it offers a reinterpretation of materiality as that which embodies a space of reflection on the nebulous relationship between a material and oneself. As a collection of essays and to be published as a series, the book is an archive of thoughts, conversations, manifestos, philosophical meditations and research with an attempt to contextualize the wide notion of materiality in relation to contemporary society and the human subject.

Generous support from the California Institute of the Arts and Claire Trevor School of the Arts at UC, Irvine.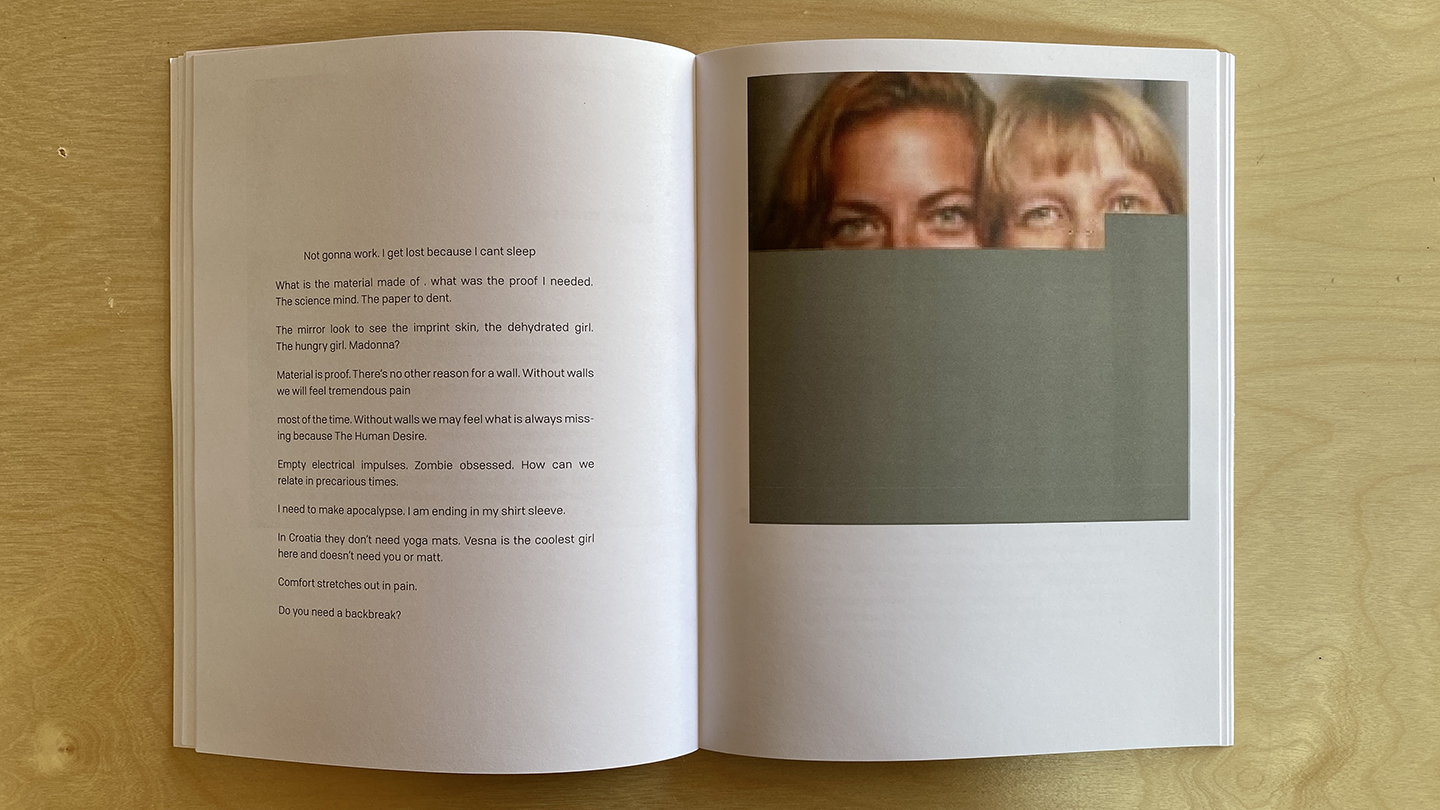 Palliasse / Siennik, 2019

Single channel video with audio, drywall, wood, chalkboard paint, framed print, canvas, hay

The exhibition hinges on a neglected everyday object, a straw mattress (in Polish, 'siennik'), as a site for an investigation into the emergence of a political subject. The conditions of this emergence point back towards systems of oppression — class, poverty, forced and unpaid labor — and issues resulting from economic inequality and migration.
Palliasse represents a kind of horizontality of labor expressed in a multitude of functions that play out as acts of resistance against power, desire against domination, relationships against rule, and body against authority.

Presented at the California Institute of the Arts, Valencia. Images: Rafael Hernandez
Futile Experiments in Mimesis, 2018

Single channel with audio, 18min.

The performative action in the work addresses classical (mimetic) system of representation. It engages ritualized and mundane gestures (clasped arms, rocking motion) as repetition that is at once a reenactment and re-experiencing of a set of meanings already socially established. The action is an attempt to challenge the patriarchal representation, rooted in the writings of Aristotle and throughout Western philosophy, of a Mother and a Woman figure as a performative subject.

The work posits a claim for a political and representational visibility in contemporary culture through an examination of text, embodiment and a notion of feminist mimesis to dislodge women from their prison-house of historical pain and contestation and to release the transgressive corporeality of the female performer.

Presented at the California Institute of the Arts. Sound design: Alan S. Tofighi