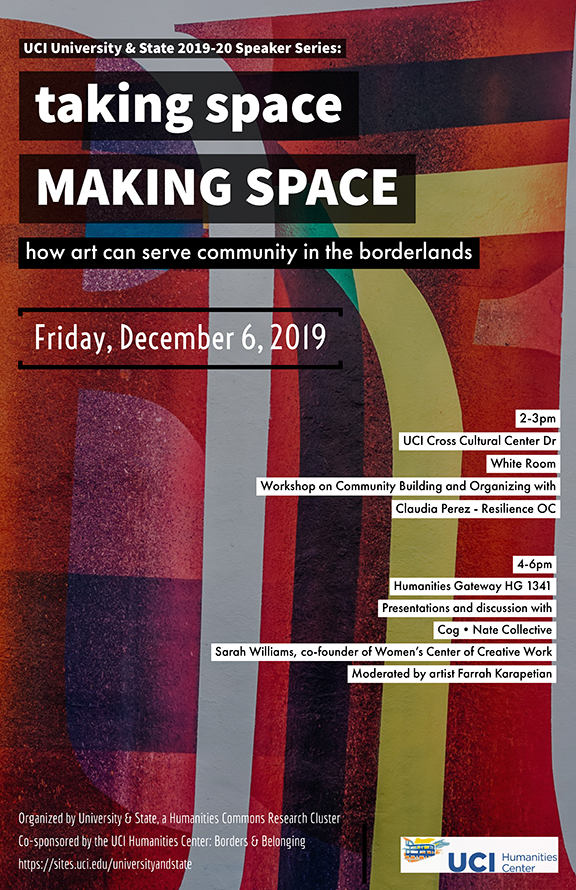 Guests:
Amy Sanchez Arteaga
and
Misael Diaz
of
Cog•nate Collective,
Sarah Williams
and
Nicole Kelly (NK)
co-founder and Programming Director of
Women's Center of Creative Work
Taking Space/Making Space: How Art Can Serve Community in the Borderlands

Part of a 2012/2020 Speaker Series organized by University & State, a Humanities Commons Research Group

Presentations and discussion
4-6pm
Moderated by artist Farrah Karapetian.
DATE:
December 6th, 2019

VENUE:
University of California, Irvine
Humanities Gateway 1341

SPONSORED BY:
UCI, University & State

ORGANIZED BY:
Organized by Ana Baginski, UCI Comparative Literature, University & State and Gosia Wojas, UCI Art, The Absent Museum
Chapter (11)
~ Taking Space / Making Space

We would like to think about how locally-oriented and site-specific work can challenge or evade the kinds of representation offered by traditional and State institutions, which come with particular expectations and demands. For example, when grant funding brings with it expectations of what diversity, advancement for women, or national identity might mean, is it possible to strategically use those resources while resisting their conceptual frames? Maintaining autonomous spaces for cultural production has become more difficult in urban spaces in recent years. In Tijuana and Juárez this might have to do with militarization, migration, drug-related violence, and the kind of cleansing and gentrification again for tourists that is still going on now. Maintaining autonomous spaces in cities like Los Angeles and El Paso is also difficult, due to the pressures of gentrification, urban expansion, institutional power, and the requirements that must be met for organizational legibility and sources of funding. It is both possible and necessary to think about the line between community and artistic work in this context. This series will also offer reflections on the specificity of negotiating the line between the State and the University in Latin American contexts - Ana Baginski.